Benefit from the flexibility of our licensing models. With us you have the choice between on premise or cloud usage.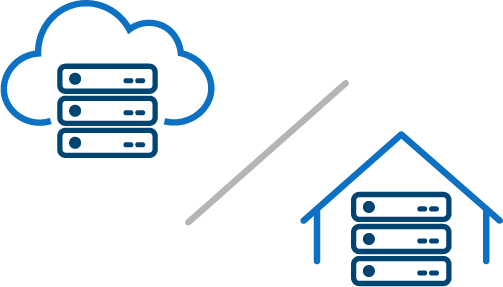 Our IT services from the cloud are dynamic and therefore scalable up and down within short periods of time. This allows them to be adapted to the user's needs in a timely manner. Companies and municipal administrations increase their flexibility, as cloud services can be used flexibly as required, even if usage behavior is difficult to calculate.
Within the WARIOS® Software Suite, the licensing metrics for our on premise models are based on the number of clients, named users and features – for some products, the number of objects is also included in the license calculation. Our mobile apps are basically free of charge.
Use via license purchase
---
When you purchase a license, it is purchased for an unlimited period of time and for exactly the modules you need. Based on the license volume, a maintenance fee is charged for software maintenance. Licenses for testing, training and quality assurance systems are already included.
✓ one-time purchase
✓ all data is located within your infrastructure
✓ Extensive software support
Cloud usage models
---
Fixed investment costs and risks become variable costs, with costs and benefits corresponding to actual demand (consumption-based billing). Investments in excess capacity for peak loads do not have to be made.
✓ immediate availability
✓ without long changeover time
✓ Reduced IT administration effort