Put the data of your area determination on a solid footing and at the same time optimize your administrative processes with GBM®4!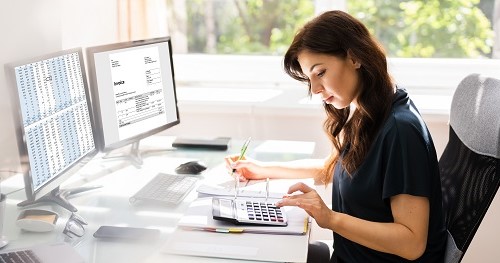 The processing of your area-related basic data does not only take place in some "tray", but in a specially developed application.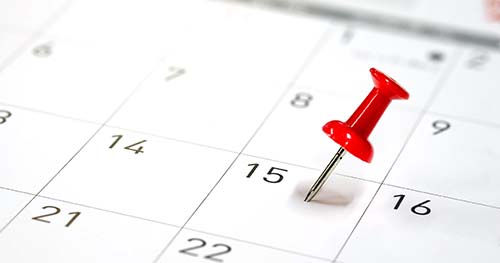 With GBM4, you get a complete historical picture of all records – up to date on a daily basis.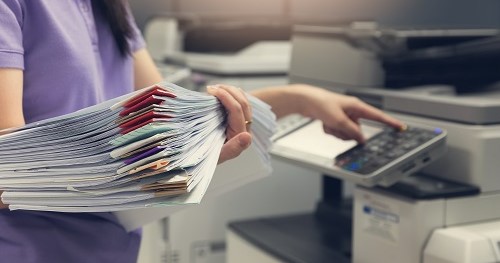 Extensive printing tools and comprehensive document management enable continuous and traceable certification.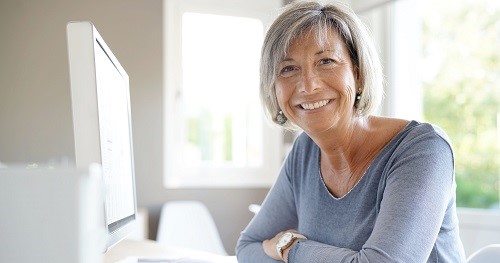 future built in: Our client-server architecture means you can also use GBM4 in your home office.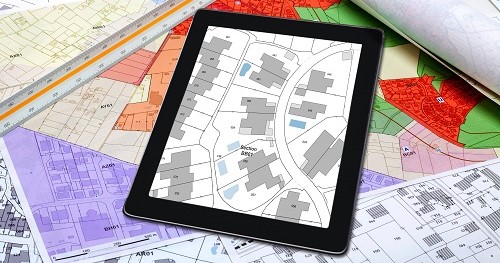 The coupling of GBM4 with various geographic information systems allows a seamless implementation into your processes.
Key Features
Overview
GBM®4
Client-Server
GBM4 is consistently designed as a 64 bit client-server system and is based on the same server components as all our WARIOS applications. These are always designed for use in larger environments with increased numbers of users and large databases.
Day to day management
An outstanding feature of our software is the complete historical management of all records. Thus, GBM4 is able to manage a corresponding history for all objects. This is fully automated and updated on a daily basis.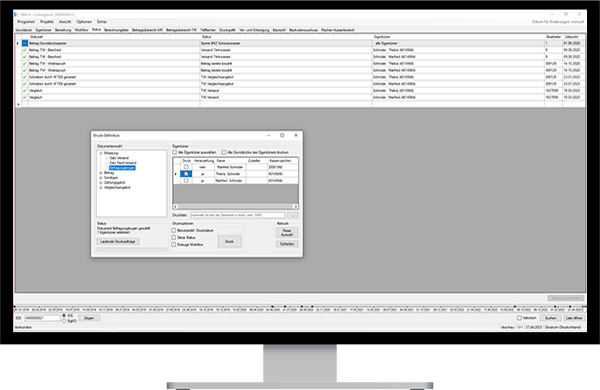 Status
The program system allows, through a freely configurable status bar, to assign corresponding status types to each property, owner-related. These can be evaluated with the integrated statistics functions and output both in list form and displayed graphically with our Geo-Connector.
Area - fee splitting (GAG)
Fully customizable to your statutes, our area capture allows for detailed representation and attribution of individual objects. At the same time, you can make mass data changes in seconds using our quick edit tools.
Areas - contribution calculation
The options implemented in GBM4 for recording contribution areas can also be flexibly adapted to the respective statutes. You can configure the content of the selection fields stored in the system yourself using the Customizing module provided.
Owner...
… their authorized representatives and/or administrators can also be fully recorded and processed with GBM4. Create your own master data record independently of ALKIS and manage each owner only once!
GBM®4

can do much more.

Learn more and apply for your demo project now!
Reporting and document handling
Print
The system comes with a powerful print and reporting engine. Choose from pre-built templates or easily create them yourself using Crystal Reports. Perform single, – or mass printing based on lists.
Printmaking
Give your employees the possibility to get a spatial impression with GBM4 even without a geographic information system. For this purpose, use the implemented functions for displaying graphics – also historically, of course.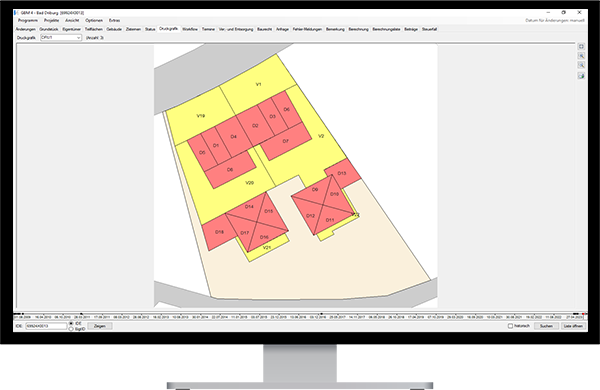 ... more graphics
You can completely define the content and the characteristics of the graphical representation. This can also take different forms depending on the property data. Use our extensive customizing module.
Documents
We already deliver GBM4 with a wide variety of document templates. Contact us if you need additional letter templates or if you see a need for changes or adaptations. With the integrated reporting system we can meet (almost) all requirements.
Appointment management
On-site appointments, follow-up entries and much more are best organized with our integrated appointment and resubmission function. Here you will not only be reminded of upcoming tasks, but you can also document the processing status or the result at the same time.
Export
With GBM4 you can not only record and edit your data in an all-encompassing way. Our interfaces to various accounting and ERP systems also enable you to transfer data continuously to other departments.
Workflow
The DMS functionalities implemented in GBM4 automate the archiving of all outgoing letters. In addition, all self-created document types can be stored in the database on an owner-specific basis.
Text module
Simplify your communication with fee and/or contribution payers with the help of our text module management. Define generally valid texts and supplement them with variable content from the database or specified text components.
Inquiries and brief notes
Often contact the various fee, – and / or contribution payers for the same reasons. Document the conversation content quickly and easily with GBM4! To do this, use our prefabricated interview notes and add to them as needed.
Geographical Information Systems
Coupling with GIS
interactive coupling
For the geographic information systems GeoMedia (Hexagon), ArcGIS (ESRI), QGIS as well as GeoMedia Smart Client Kommunal (Hexagon) we provide interactive coupling modules. With the help of our API, additional systems can be connected.
GIS Connector
Our GIS connectors ensure that your geographic information system is coupled in both directions. Changes in the graphical dataset are thus implemented automatically in GBM4.
Synchronicity
The GIS connector also ensures that employees without GIS can always be presented with an up-to-date graphical representation within GBM4. At the same time, this takes over the display synchronization of both systems.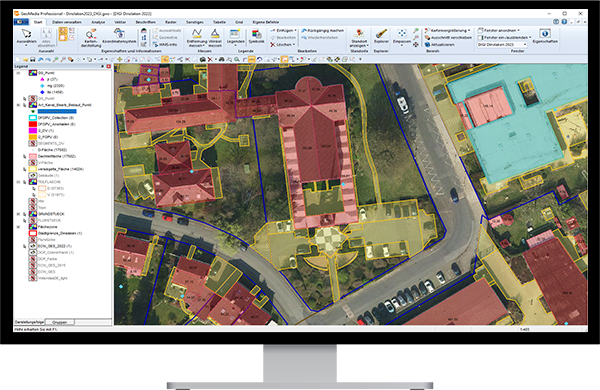 More functions and
Possible applications
Indirect discharger
You can also use GBM4 to record your indirect dischargers or properties requiring mobile disposal. The data masks already prepared here meet a variety of data depth requirements.
... and again printmaking
In this context, use our print graphic to spatially depict the location of the connection nozzles for mobile disposal and to price their use differently in their evaluation.
Reconciliation dataset
GBM4 also includes various functionalities for reconciling the data stock with other sources or adding to it semi-automatically.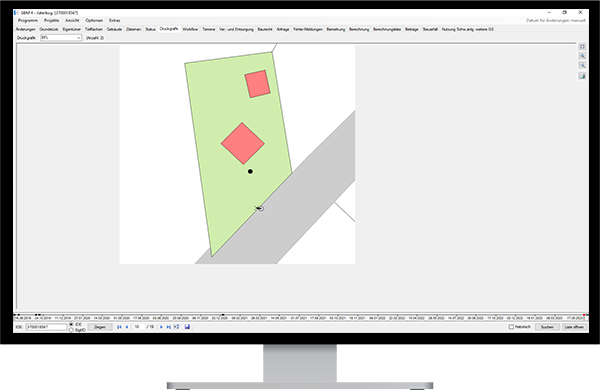 Apply now for your demo project for
GBM®4

!
Our service also online
Online Portal
Secure authentication
The registration of land owners is carried out taking into account several authentication features, which they can find in the documents sent to them. After a one-time registration, with which a user account is also created at the same time, this is used from then on for secure identification and authentication vis-à-vis the portal.
Simple operation
After logging in, property owners can select their property and initially receive general information. In addition to the location designation(s) of the respective property, this also includes cadastral information such as cadastral area and cadastral parcel designation(s) or the size of the property. The online portal also includes a FAQ on operation as well as corresponding service notes and a chat function.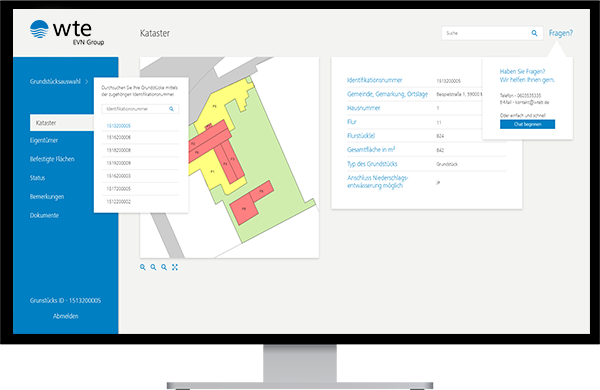 Area Review
The most important representation for the area check is the illustration of the respective current plot graphic including the factual information of the individual subplots together with their size. This data can be processed and continued by the respective users.
Up and download
Of course, the online portal also offers functionalities for uploading files and downloading the current acquisition documents.
Stay up to date
Information for you
GBM®4 Release Notes
We are constantly working to improve our software and make it as intuitive to use as possible. In doing so, we take note of customer opinions and stay up to date. Here you will find all the latest features and fixes.
The GBM®4 Manual
Even though our support team will assist you with any question and nothing will be left unresolved, using a manual is a good solution to internalize content and quickly clarify recurring issues.