Software for as-built documentation, condition assessment and planning and organization for the operation of sewer networks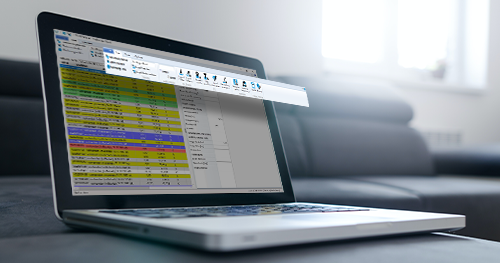 Menu and toolbars through more modern ribbon bar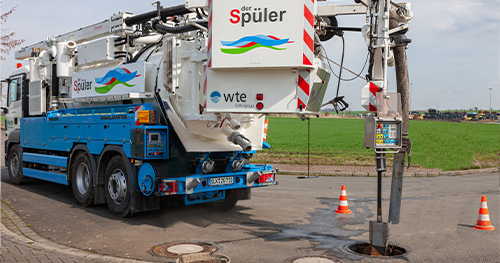 Planning tool for flushing services, TV inspections and sewer mirrors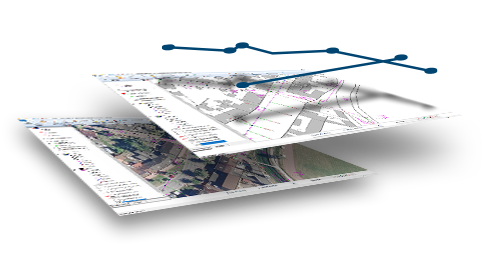 Support of various connections of geographic information systems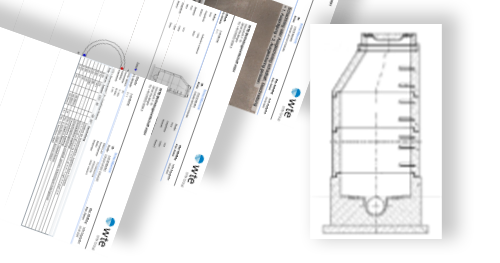 Automated creation of as-built graphics (including imagery from inspections)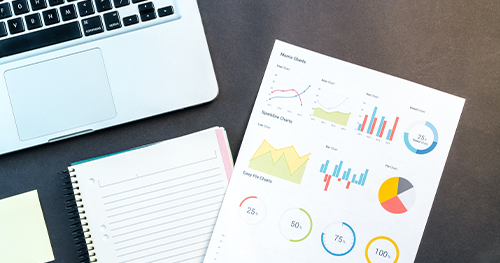 Extensive statistical analysis
Key Features
Overview
WARIOS®kanal
Client-Server
WARIOS|kanal is consistently designed as a 64 bit client-server system and is based on the same server components as all our WARIOS applications. These are always designed for use in larger environments with increased numbers of users and large databases.
ISY construction / data fields
In WARIOS|kanal, all ISY-Bau exchange formats that enable a uniform and consistent exchange of digital data of wastewater engineering plants are integrated. Our catalogs, which can be expanded at any time, also meet this standard.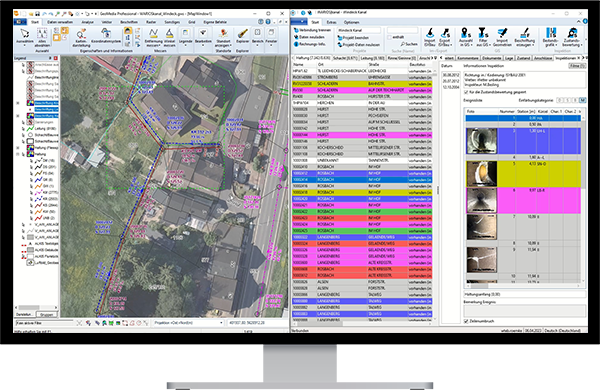 TV inspection / evaluation
With WARIOS|kanal, all scanned optical inspections are mapped in detail, including the film and image material created during the inspection. In this context, the software supports all ISY-Bau formats. The integrated assessment is automated based on the protection objectives (stability, operational safety, tightness) and in accordance with the relevant standards, which can also take environmental factors into account. Of course, an additional engineering technical evaluation is also integrated. Thus, users of WARIOS|kanal can also implement their own evaluation matrix without much effort.
Satistics
The statistical functionalities integrated in WARIOS|kanal cannot be found in their entirety in other software products. Here our system is completely dynamized. Using an intuitive interface, you can configure fine-grained differentiations in addition to self-monitoring reports. The output is 100% in Microsoft Excel. Of course, you can also save and reuse templates in WARIOS|kanal of your statistics.
Stock graphic
The results from the TV inspection are clearly displayed in WARIOS|kanal in posture and shaft graphics including the image material. In addition to singles, track damage is also immediately recognizable. Recorded damage can be displayed in color according to the standard. The stock graphic also contains the connected edge objects.
GIS coupling
Our interactive coupling with geographic information systems (GIS) not only enables accurate visualization of the dataset but also assists users with routine tasks such as research, filtering, re-entry, and analysis.
Planning
The planning of inspections (with and without inspection) as well as of flushing services is carried out semi-automatically and according to the rules of DWA-A 147 in terms of DIN EN 752. The routines, which run completely in the background, are based on adjustable cycles.
Apply now for your demo project for
WARIOS®kanal

!
Stay up to date
Information for you
Kanal Release Notes
We are constantly working to improve our software and make it as intuitive to use as possible. In doing so, we take note of customer opinions and stay up to date. Here you will find all the latest features and fixes.
The kanal manual
Even though our support team will assist you with any question and nothing will be left unresolved, using a manual is a good solution to internalize content and quickly clarify recurring issues.